Donation Drives
Every item donated ensures more resources for our kids.
From our founding day in 1950, Boys & Girls Haven has relied on the generosity of our community to provide for the physical needs of the children and young adults in our care. Every item donated ensures we are able to put more money directly toward the healing, education, and enrichment our kids need to grow and thrive.
See below for some of our most needed items. Please feel free to contact us at development@boyshaven.org with any questions about ongoing or seasonal drives.
As a note, we can only accept NEW items for our young people. We cannot accept used clothing, sheets, blankets, or household goods at this time.
Drop-Off Instructions: 
To help us deliver your donations to our kids as quickly and efficiently as possible, we would be grateful if you could fold items, transport them in boxes (not bags), and label boxes by item.
Donations can be dropped off at the administration building at Boys & Girls Haven (2301 Goldsmith Lane, Louisville, KY 40218) during business hours…Monday-Friday, 9AM-5PM. If you'd like to drop-off donations in East Louisville, please deliver them to Nadine Brewer. **Please contact Nadine to arrange a drop-off. She can be reached at 502-262-6134.
Feel free to call/email Kayli Jones (502-458-1171 ext 113, kjones@boysandgirlshaven.org) or Development (development@boysandgirlshaven.org) to schedule a drop-off time at BGH's campus. **Unscheduled walk-ins are still welcome during business hours​​** 
When you arrive on BGH's campus:

Park in either parking lot (see map below).
Enter through the front door of the Administration Building and let the receptionist know you have donations – and someone will help you carry them inside.
Request an in-kind donation slip for your taxes.
Receive a hug from grateful BGH employees!
Please use the front entrance of the BGH Administration Building (pictured below) when you arrive to drop off donations.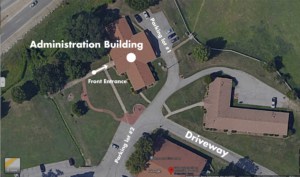 Bedding and Towel Drive
Bath towels & wash cloths
Weighted blankets
Standard size pillows
Twin / Twin XL size sheets & pillowcases
Twin / Twin XL size comforters
Twin / Twin XL size vinyl mattress protectors
Hygiene and Beauty Drive
Men's & women's shampoo & conditioner
Men's & women's deodorant
Facial cleanser
Facial moisturizer
Over-the-counter acne treatment
Tooth paste / brushes and floss
Hand & body lotion
Combs & brushes
Moisturizing lip balm
Nail polish & polish remover
Makeup (all skin tones)
Socks & Undergarment Drive
Men's white crew shirts
Men's white tanks
Women's camisoles
Sports Bras
Women's socks (no show, ankle, boot, etc.)
Men's socks (no show, ankle, crew, etc.)
Women's underwear (bikini, briefs, boy short, etc.)
Men's underwear (boxers or briefs)
Equine Program Drive
Dumors Maintenance Equine Feed
Purina Cat Food
Mazuri Minitaure Pig Feed for Adults
Guinea Pig Feed
Small Animal Timothy Hay
Oxbow Essentials Adult Rat Food
Wood Chews for Small Animals
Dumors Chicken Layer Feed
Pine Pellet & Aspen Shaving Bedding
Equine Fly Spray
Trace Mineral Salt Block for horses
Himalayan Salt Block for horses
Equine Dewormer
Vetericyn Plus All Animal Wound Care
Tractor Supply or pet store gift cards
Art Supply Drive
Tabletop easles
Newsprint
Paint brushes
Acrylic paint
Painting canvases (all sizes)
Colored pencils / Crayons
Sketching pencils
Blank white greeting cards & envelopes